---
The Rosewood Collection at Victorinox Swiss Army
The Rosewood collection from Victorinox combines ergonomic handles in a naturally strong raw material with ultrasharp, efficient blades. Long been considered an ideal material for knife handles, Rosewood is highly robust and gives each model a unique patterning. We prize the carefully hand-polished Rosewood knives for their comfortable feel and elegant look.
No matter what you serve, with these knives, you'll have the ideal tools on your table as they not only look good but also work well. Our Wood Steak Knife Set fuses fine functionality with intricate craftsmanship and flawless form.
Our Price $84.99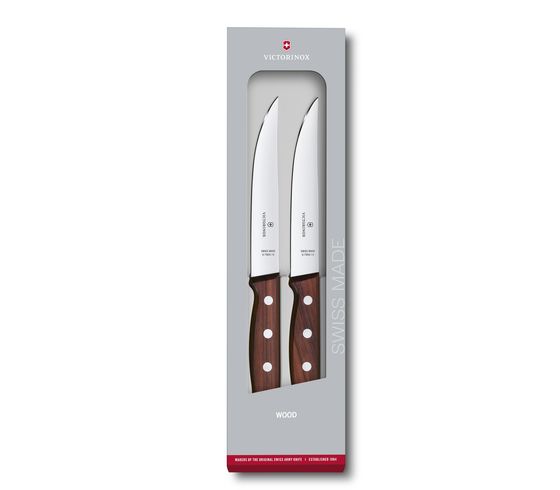 Where exceptional craftsmanship meets carving and slicing versatility. Introducing our Wood Kitchen Set. Both knives of this set are constructed with robust wooden handles whose uniquely patterned surface has been polished manually for comfortable grip.
Our Price $102.99
Where exceptional craftsmanship meets carving and cutting versatility. Introducing our Wood Carving Set.
Our Price $102.99
Every piece required in any kitchen is included in our 11-piece Wood Cutlery Block, which combines the exceptional quality expected of Victorinox blades with the timeless elegance of natural wood.
Our Price $400.00
The Salmon Knife is a precision instrument. Its long, thin blade is flexible and has a fluted edge on both sides. That means you'll be able to cut closer to the bone than you ever thought possible and slice thinner than your guests have ever imagined.
Our Price $71.75
Who wants dessert? Everyone, that's who. So there's no time to waste time with mediocre equipment. The Victorinox Spatula is built with perfect balance and just the right amount of flex. Keep one close at hand, and you'll be icing and slicing with precision and grace. Yum!
Our Price $37.00
The Pastry Knife will slice right through pastries, baked goods and bread without a single crumb. It's not magic – it's simply the smart combination of blade length and width, combined with a wavy edge and an ergonomic handle. Sharp and thin, it's as delicate as the pastry you're cutting and as strong as a Victorinox knife.
Our Price $65.00
Every kitchen needs its workhorse – a reliable, up-to-the-job cleaver that can be depended upon for those jobs beyond slicing vegetables. This is the space the Kitchen Cleaver fills in every kitchen it occupies.
Our Price $119.75