---
Top-Selling Headphones At Advanced MP3
Shop The Best Selling Headphones At Advanced MP3.
The return of a legend, with a new look and a new headband HiFiMan, the leader in high fidelity personal audio, have used the occasion of the Hong Kong High-End Audio Visual Show to unveil the HE6se headphone, an update of the original HE6, considered to be one of the audio market's most natural and transparent headphones.
Now £1,699.00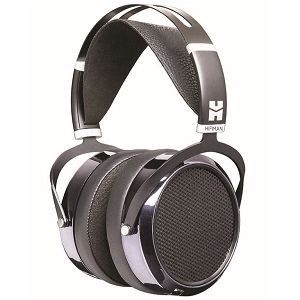 The new HE1000se (Special Edition) is the third version of HiFiMan's distinguished HE1000, featuring increased sensitivity for superior performance when paired with every imaginable source, from audiophile-grade source components to high-resolution digital audio players — even tablets and smartphones.
Now £3,199.00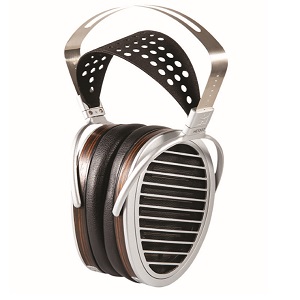 High-grade audio and innovative design made the SoundMAGIC E10 an award winning contender in the portable listening world. With the E10BT version SoundMAGIC have taken the celebrated design a step further by adding the latest Bluetooth wireless connectivity with high-resolution sound. Retaining the same compelling bass and musical detail as the wired model, the E10BT plays non-stop wireless music for up to 12 hours in high-fidelity with 24-bit resolution.
Was £69.99 Now £49.99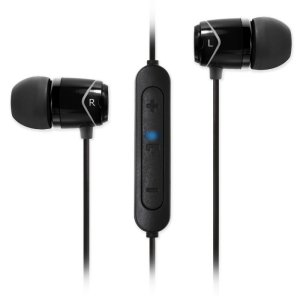 In pursuit of audio perfection, iBasso have developed the IT01 IEM. Their in-house developed dynamic driver combines three leading technologies that result in an incredible sound: A customized magnet that efficiently drives the diaphragm, improving resolution, bass, dynamics and speed. Dual Helmholtz resonator drivers to provide a deep and powerful bass sound that prohibits standing waves and ensures full and natural sound. A multi layered graphene diaphragm. Graphene is a form of carbon consisting of planar sheets with the atoms arranged in a honeycomb shaped lattice. Graphene has a breaking strength 100 times greater than steel. Of the many benefits from Graphenes ultra thinness, extreme speed and low distortion of sound waves work extremely well for audio reproduction.
Now £89.99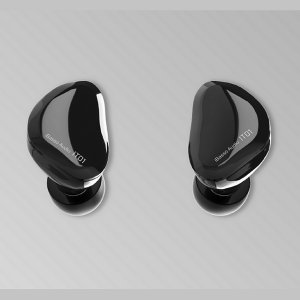 The AMP3 Luxury Glass Skull Headphones Stand is a stylish yet scary headphone stand which will stop you losing your headphones, because if you're not wearing them then your new buddy should have them nestling over his little glass ear holes. Available in a range of colours that should mean you can match your stand to your headphones. These are a seriously cool addition to any room.
Now £24.50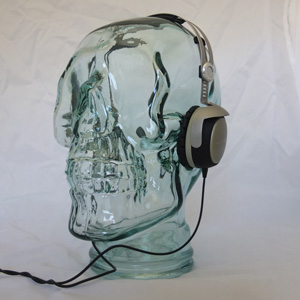 Working on their previous successes SoundMAGIC have introduced the E10C In-Ear Earphones with Mic & Remote with Auto-detect compatibility for all smartphones. Compatible with all smartphones, the E10C incorporates a microchip in the 3-button remote unit that switches automatically between Apple and Android smartphones allowing you to adjust the volume, skip forwards and back, play/pause and take or drop calls; the E10c gives you more control over your smartphone, without having to take it out of your pocket or bag.
Now £44.99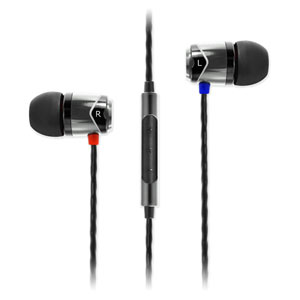 Think the E10s are just a normal in-ear headphone...Wrong! At this price point the E10s could be perceived as punching in a weight-class lower than they should be. I don't mean they are cheating, they are just doing a damn good job of producing quality for less! These headphones work with all MP3 players, tablets and other audio devices with a 3.5mm audio output.
Now £36.99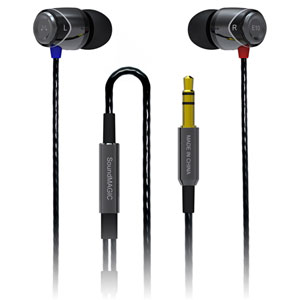 With the goal of offering audiophile sound quality to everyone SoundMAGIC has created the E80 earphones. High-definition transducers convey precise sound with well defined bass and composed stereo separation and allow the E80 to offer a genuine representation of music. Listening with the E80 opens up the world of high end Hi-FI quality sound that never sounds boosted or enhanced with a neutral and poised sound stage.
Now £64.99