---
The Rosewood Collection at Victorinox
The Rosewood collection from Victorinox combines ergonomic handles in a naturally strong raw material with ultrasharp, efficient blades. Long been considered an ideal material for knife handles, Rosewood is highly robust and gives each model a unique patterning. We prize the carefully hand-polished Rosewood knives for their comfortable feel and elegant look.
No matter what you serve, with these knives, you'll have the ideal tools on your table as they not only look good but also work well. Our Wood Steak Knife Set fuses fine functionality with intricate craftsmanship and flawless form. Both handles with unique patterning are carefully hand polished.
Our Price £75.00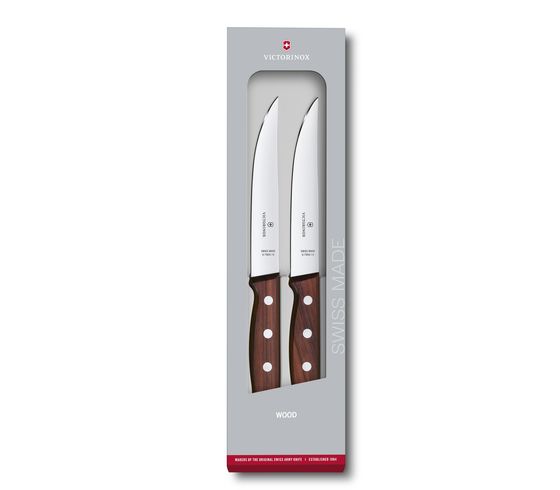 Every piece required in any kitchen is included in our 11-piece Wood Cutlery Block, which combines the exceptional quality expected of Victorinox blades with the timeless elegance of natural wood.
Our Price £500.00
The Salmon Knife is a precision instrument. Its long, thin blade is flexible and has a fluted edge on both sides. That means you'll be able to cut closer to the bone than you ever thought possible and slice thinner than your guests have ever imagined. You won't leave any of that beautiful salmon behind. And neither will they.
Our Price £52.00
Every kitchen needs its workhorse – a reliable, up-to-the-job cleaver that can be depended upon for those jobs beyond slicing vegetables.
Our Price £125.00
There are everyday meals, and then there are dining events – the difference is in the details. The curved blade of the Shaping Knife is ideal for decorating and garnishing fruits and vegetables.
Our Price £19.00
Victorinox Kitchen knives are designed to stand up to anything on your cutting board. Their ergonomic handles and balanced design make carving a breeze. Their blades are thin and sharp so you can cut as thin as you like and as consistently as you need. Meats of any cut, fruits and vegetables in all shapes and sizes – cut them all with grace and precision.
Our Price £23.00