---
The Grow-Your-Own Range at One Garden
This week at One Garden we bring you our Grow-Your-Own range from Wooden Cold Frames:
Low to the ground but with a hinged fully opening lid, allowing you ample access to your precious plants. A cold frame is a really useful thing, like a tiny personalised greenhouse for your plants.
and Box Planters:
If you don't have a garden and still feel the urge to grow things on your terrace or roof garden. May be you just want to add some height to your existing garden, well a planter can be an ideal addition to your gardening plot, large or small.  
Grow-your-own gardening is a national pastime. Some people do it for purely fun, some for a nice profit, and some to be well on their way to self-sufficiency. So, whatever reason you have for growing your own plants, herbs and vegetables, we have something here to help you.
Available in single and double height, these wooden cold frames will help give your smaller plants the start in life that they need. Once closed in, these handy cold frames will protect from birds and above-ground vermin.
The Zest Large Cold Frame is made from overlapping, pressure treated boards with a pair of tough plastic windows that make up the lid. Excellent for helping to cultivate small plants or seedlings.
Usual Price £79.99 Now Only £64.99 Save £15.00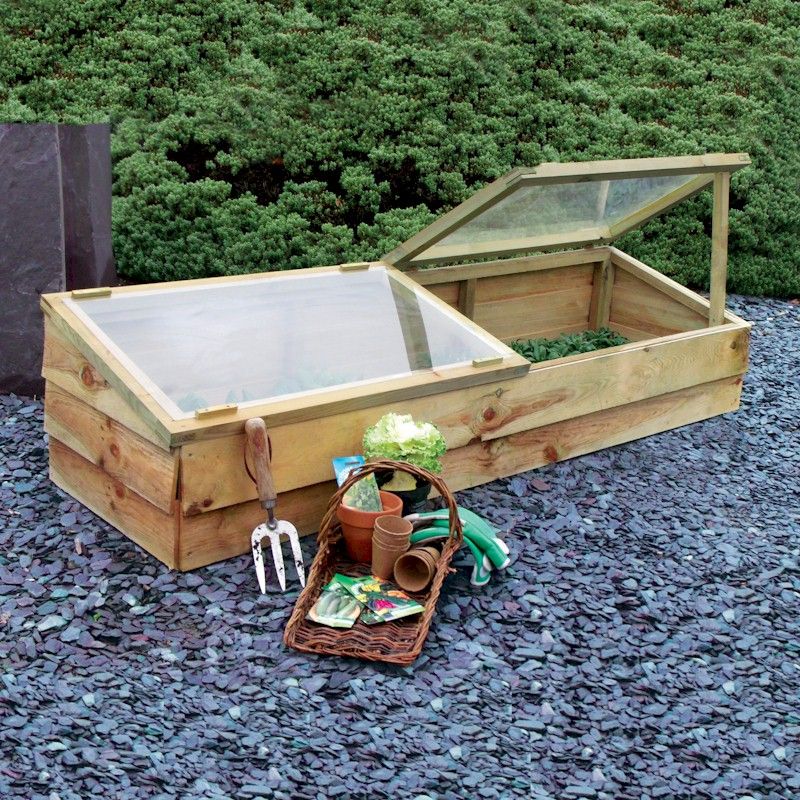 A cold frame is a traditional, low to the ground growing enclosure with a glazed top. It is used to protect small plants and seedlings from cold or wet conditions but still allow light to get through, like a miniature greenhouse.
Usual Price £64.95 Now Only £59.15 Save £5.80 The glazing supplied is a styrene safety glazing, it will not shatter like glass should there be an accident. The size of this frame makes it ideal for small or urban gardens.
Usual Price £59.95 Now Only £54.55 Save £5.40
The Zest Sleeper Cold Frame is made from thick, pressure treated interlocking wooden boards with a pair of tough plastic windows that make up the lid. Excellent for helping to cultivate small plants or seedlings.
Our Price £149.99
Box planters are typically square or rectangular and generally deep allowing plenty of room for growth. Equally suitable for shrubs as small plants. This selection also includes a number of graduated sets of planters, an ideal centrepiece or accent to a garden or patio.
The planter is a 0.60m square wooden planter made from thick-cut pressure treated timber. It is 0.40m tall and comes complete with a floor.
Our Price £69.99
The entire structure is made from pressure treated timber for a longer lifespan. Each planter is 0.50m square. The bench seat is made from 70x40mm timber sections.
Our Price £124.99 The small, medium and large planters provide an appealing feature. Chunky timber is used to construct these solid planters, which can still be moved easily to different areas of the garden. All three planters are made from thick sections of pressure treated timber (up to 45mm thick) and have a smooth finish. 18mm thick bases are supplied for each planter.
Our Price £145.99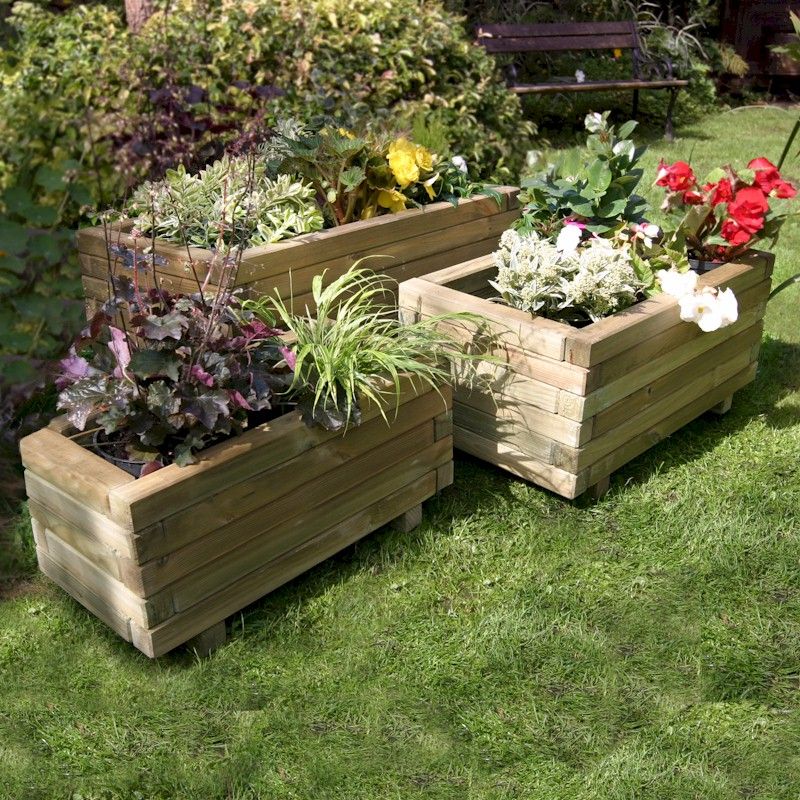 The pack contains one of each size of the Holywell Planters. Small (37x37cm), Medium (48x48cm) and Large (60x60cm). This set of square planters is made from 12mm, pressure treated tongue and groove boards on 45mm framework.
Our Price £279.99