---
Personalised Swiss Army Knives at Victorinox
Four Simple Steps to Personalise your Swiss Army Knife
The Swiss Army Knife is often cited as an example of perfection in design, but now you've got the chance to make your own mark by personalising a pocket knife.
We now offer the chance to personalise your own pocket knife. Simply choose your own model, scale colour and add your choice of engraved text, all according to your own individual wishes, to create your personalised knife.
Whether you are simply a fan of high quality, customised products for your own collection, or if you are looking for a customised gift for a birthday, special occasion or for your groomsmen, a personalised Swiss Army Knife is something truly special and unique to you alone.
Choose your Swiss Army Knife and follow the simple step by step guide here.
Stay well equipped as you ramble from one successful day to another with the Rambler pocket knife. It's full of essential tools such as scissors, two screwdrivers and much more. And despite all the functionality packed between its scales, it still manages a slim profile that easily slips into your pocket.
Our Price £25.00
This pocket knife was built to help you figure things out. Its 16 functions include the tools you need to take just about anything apart and put it back together; and a magnifying glass so you can get a closer look in between.
Our Price £46.00
When you hear the words Swiss Army Knife, chances are you think of the legendary Officer's knife. And that legend continues with the SwissChamp pocket knife. It's the ultimate pocket knife, packing no less than 33 functions and countless possibilities.
Our Price From £79.00
Kids look up to adults with a sense of curiosity and admiration. And no wonder: We have Swiss Army Knives. So when it's time for a young someone in your life to step up, get them a My First Victorinox, the pocket knife created especially for them.
Our Price £27.00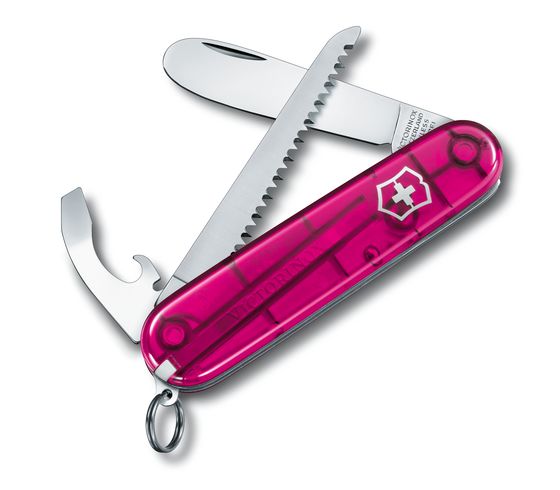 It all started with the Swiss Officer's Knife – and more than a century later, the Swiss Army Knife is still an icon of sleek functionality. Each one is built to last a lifetime and in the Classic you'll find all the functionality you need for your everyday adventures – in a package you'll want to keep with you always.
Our Price From £17.00
Welcome to the world of the Officer's knife. This is where the legend of the Swiss Army Knife began. And it continues today with the Climber pocket knife. Its 14 functions are as sharp, strong and intuitive as you need them to be. So no matter if you're climbing up the corporate ladder or a class 5 crag, the Climber is with you all the way to the top.
Our Price From £30.00