---
Get Halloween Ready Here at Sock Shop
Get ready for Halloween with the range spooky sock range available at Sock Shop.
Click here to find out more.
Fun for Halloween, but wearable year-round, our ladies SockShop Wild Feet Pumpkin Cotton Socks depict happy, smiling carved pumpkins on black backgrounds for two pairs of these soft, fine gauge socks, plus a third pair that have glamorous, glittering orange and purple stripes, along with pink and green, again on black.
Now £9.99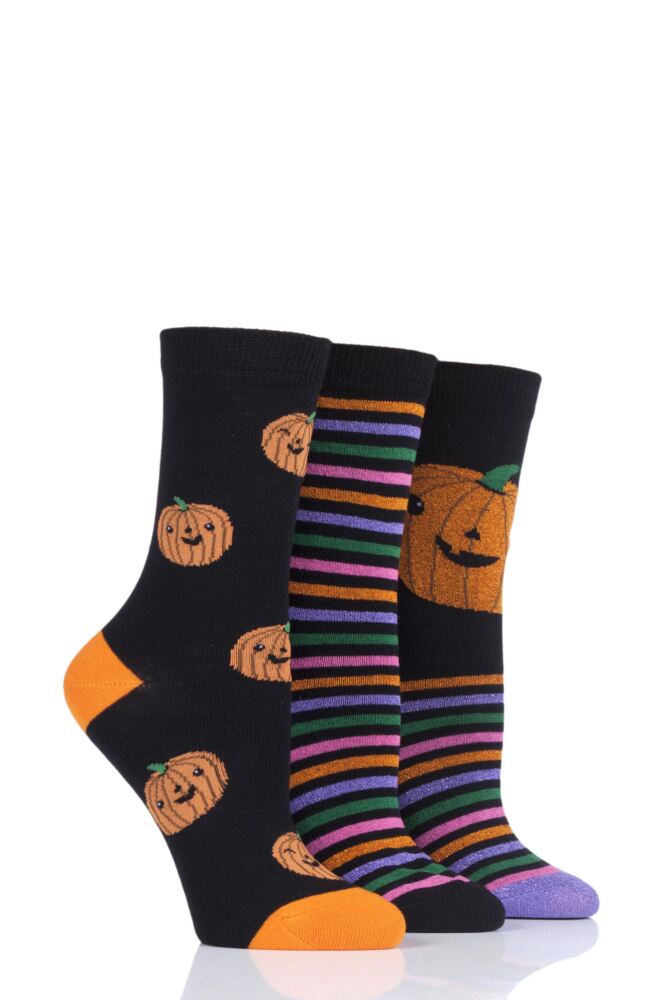 Spookiness from Sweden, these gift boxed Happy Socks Halloween Socks, in men's and ladies sizes, are a three-pair pack of frightful fun. This terrifying trio of colourful sock designs from the crypt include blue and red coffins on beastly black, evil eyeballs in multicoloured on bloody red, and a ghoulishly yellow pair with bolts of lightning and creepy black cats.
Now £21.99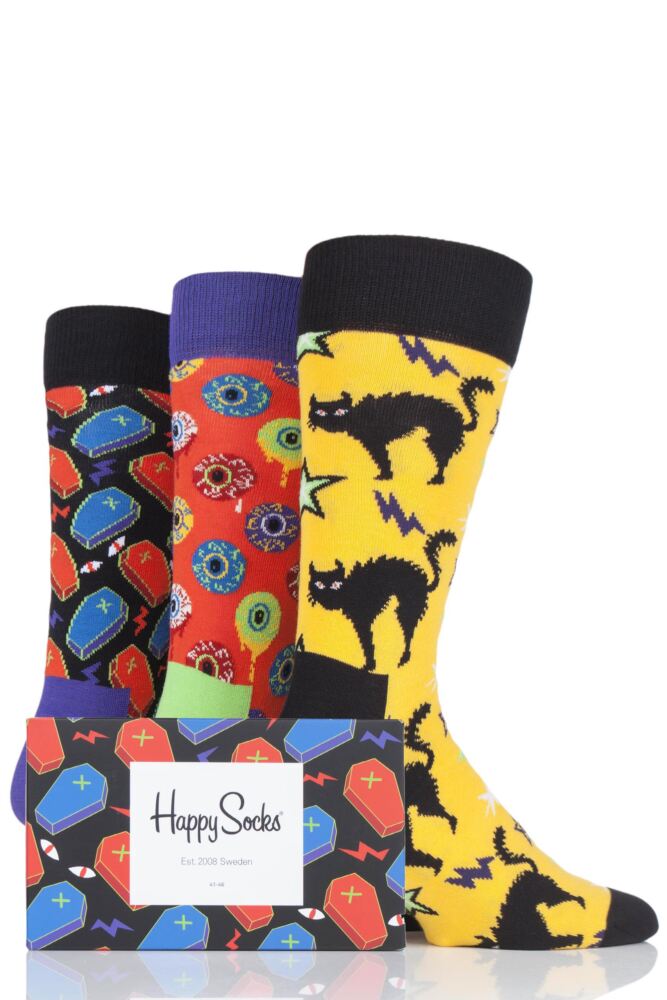 As Halloween comes around, everyone wants to be scary, but what's a cute lil' pug to do? Well, one answer would be these white sheet-covered SockShop Wild Feet Ghost Pug Cotton Trainer Socks, with a pup doing his level best to be spooky.
Now £9.99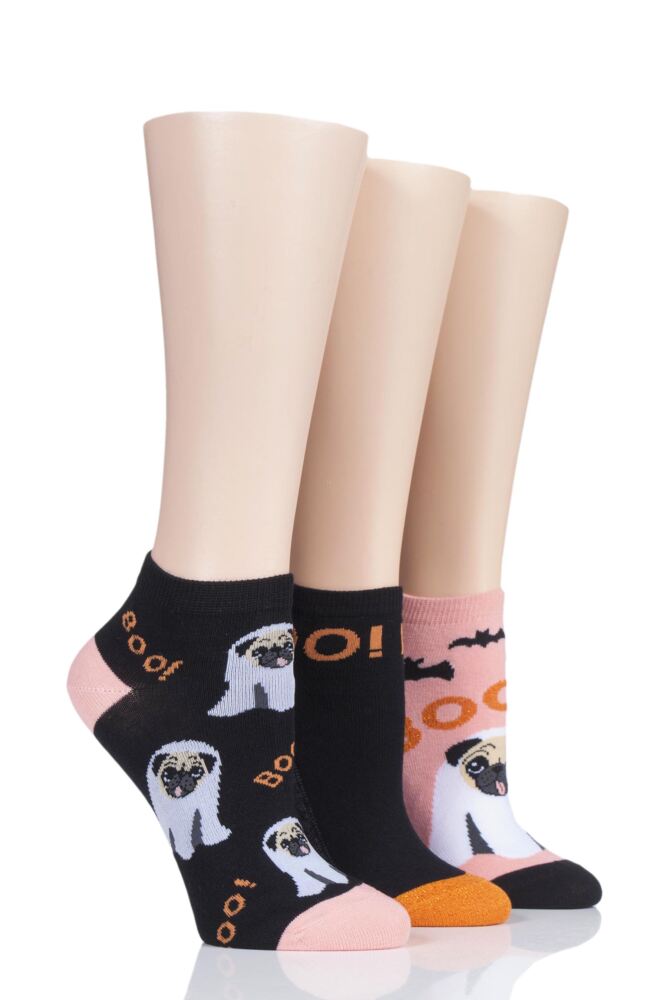 'Nevermore' worry about whether your socks reflect your more mysterious side. For lovers of Edgar Allen Poe, Halloween and all things slightly spooky, our ladies SockShop Wild Feet Raven Cotton Socks are moody and magnificent, with black and blue raven motifs.
Now £9.99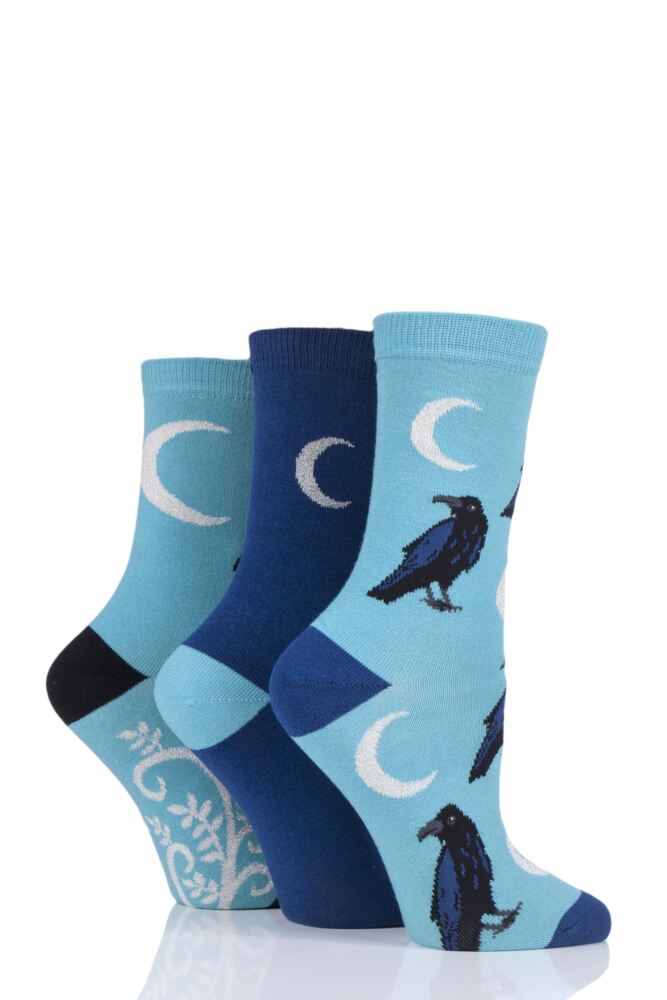 For cat lovers, witchy women and even for Halloween if you like, our cute, yellow eyed kitties that feature on these SockShop Wild Feet Black Cat Cotton Socks stare in that defiant way that we love them for, from two pairs of this triple pack. These fun black and sky blue background socks have a glamorous touch too, with silver glitter stars, moon, toes and heels decorating them.
Now £9.99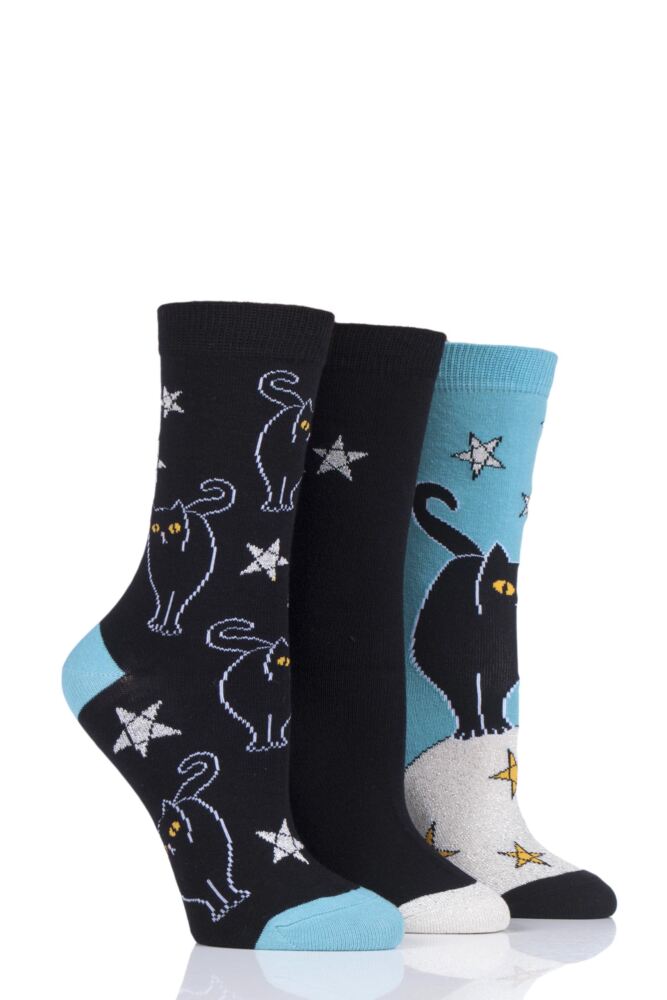 Release the bats! Whether you wear them for Halloween, for hinting at your goth leanings or if you just love bats, these SockShop Wild Feet Bats Cotton Socks will delight you. These soft, cotton rich quality ladies socks come as a triple pack, two with bats on blue backgrounds with pink and black contrast details and yellow five pointed star motifs, and one bright yellow pair with five point pentagram star motif with blue toes and heels.
Now £9.99
Can you hear the screams? Jason Voorhees is back — again — and this time, he wants your socks! His hockey-masked face is blankly staring out from these horrifying Stance Friday the 13th Jason Socks, in a smooth cream 200-needle cotton rich weave, spattered with something disturbingly red at the feet. Could it be…? Surely not!
Now £14.99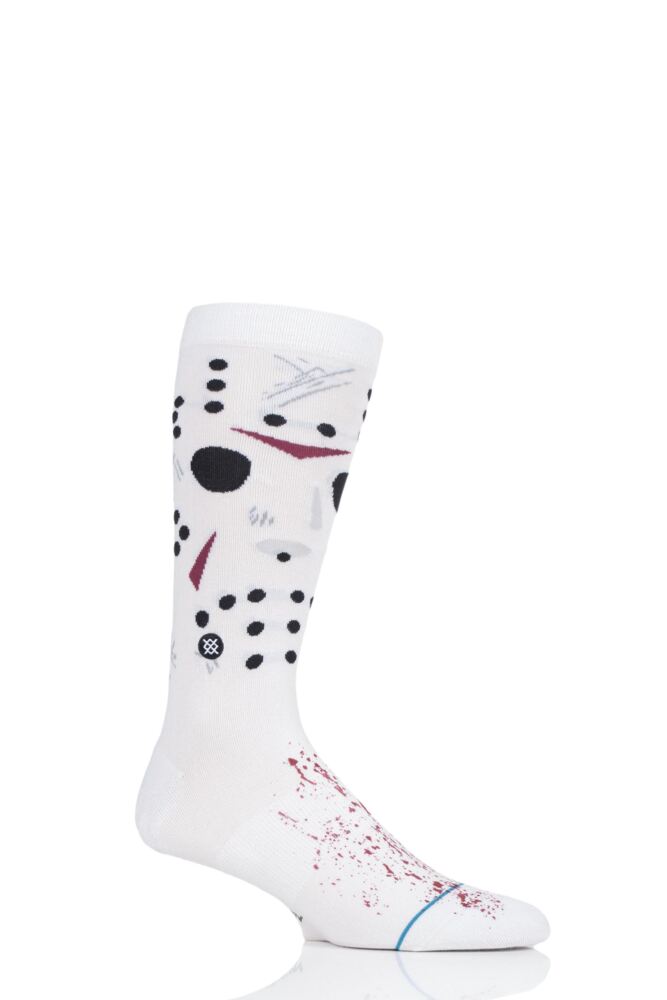 Spooky — but not very, trust us — for Halloween, these super-cute ladies SockShop Wild Feet Ghost Pug Cotton Socks depict a determined little pug pup in his white sheet ghost costume getting ready to go out seeking treats.
Now £9.99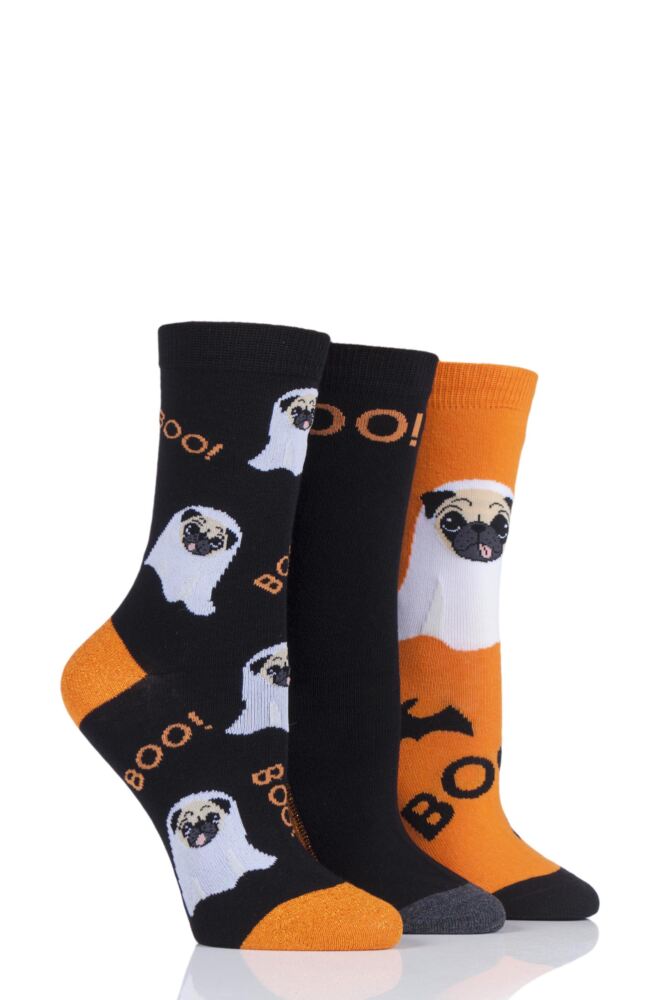 Haddonfield's most feared son is back yet again, on movie screens and now on these scary socks! Stance Halloween Michael Myers Socks have full crew length leg designs of Michael in his William Shatner mask (it's true - look it up!) and his favourite kitchen utensil, ready to prepare a fillet for you… and also of you! A spooky orange message on the toes tell you the dreaded truth — Michael Lives!
Now £14.99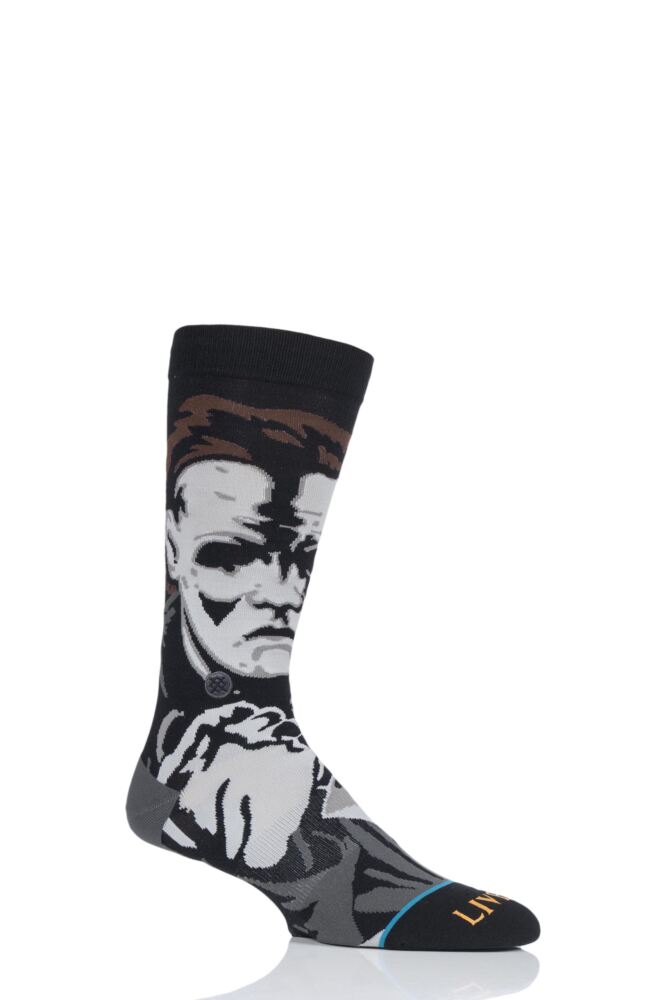 Recently resurrected for a comedy web series, Cobra Kai fighter and bad guy Johnny Lawrence are also back to terrorise good 1980s martial artists everywhere on this pair of black Stance The Karate Kid No Mercy Cotton Socks in his Halloween night skeleton incarnation. The stylish Stance logo is embroidered at the ankles.
Now £14.99