---
From Flatware through to Chef's Knives with Victorinox
From as low as £5
From the table to the countertop to the kitchen island, the right tools always make the job at hand more pleasurable. That's why Victorinox have put their passion into creating household and professional knives that are ergonomically designed and exceptionally sharp. Whether you use it in your five star restaurant or in your home kitchen, you'll feel like a pro with every slice, dice and chop.
The Victorinox extensive cutlery selection spans culinary companions, professional knives and blocks as well as everyday cooking tools, flatware, and bread and baking knives. So it's really cutlery in all its guises:
Knife blocks & sets
Chef's knives
Steak knives
Paring knives
Bread knives
Kitchen utensils & cutting boards
Flatware
All this available in different design collections including Swiss Modern, Fibrox, Rosewood, Grand Maître and Swiss Classic. For cutlery that breaks the mold and truly knows no limits: look no further.
Be it fruits, veggies or even some chocolate shavings – our compact and streamlined Peeler turns these tasks into child's play.
Our Price £15.50
The Grater effortlessly grates or zests citrus fruits, cheese, spices and even dinkier bars of chocolate with maximum precision and safety.
Our Price £12.00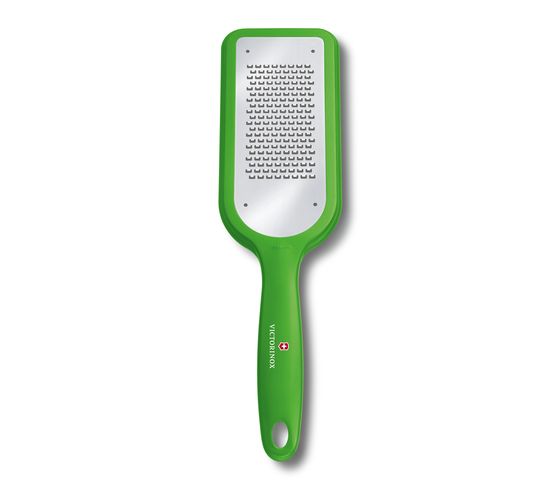 Invest in our Swiss Classic Kitchen Set, 4 pieces, and then build up your repertoire and countertop accessories around it.
Our Price £80.00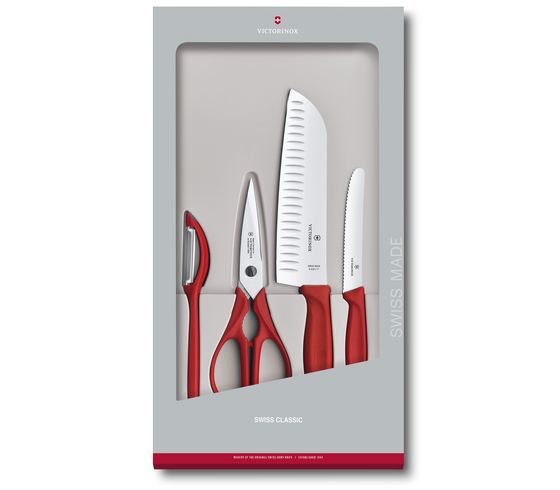 Every household needs a pair in a drawer – to call on when tags need snipping from clothes, buttons need stitching to shirts, paper needs cutting to size and ribbons need trimming on gifts.
Our Price £16.00
Whether you need to julienne carrots, slice radishes or grate a chunk of parmesan, the three-in-one Handslicer is your go-to tool.
Our Price £33.00
Our Fibrox In-Drawer Knife Holder is a real game-changer. Outstanding both in functionality and form, it creates more space for you to create in the kitchen.
Our Price £250.00
Oyster Knife is compact, yet chef-level competent. Its bent blade effortlessly glides through shells and the ergonomically shaped handle is crafted from a slip resistant synthetic, ensuring safety and precision with every slice.
Our Price £27.00
Make kitchen chores child's play and peel your potatoes in no time with our handy Potato Peeler. It's got it all: One, the double-edged peeler is made of stainless steel and features a pointed tip that's excellent for removing potato eyes and bruised spots. Two, the ergonomic handle provides a comfortable grip while you make quick work of the pile of potatoes in front of you. And three, the peeler works well on other produce, such as cucumbers and carrots. Go forth and peel.
Our Price £5.00
Where true beauty meets true quality: meet our Swiss Modern Steak Knives. Just like each piece in its collection, it's been ergonomically honed for ultimate comfort.
Our Price £110.00
Quickly, easily and safely sharpen every straight-edged knife in your drawer to its precision-cutting best with our Knife Sharpener.
Our Price £35.00