---
With supreme stability matched with solid grip and traction, the Inov8 F-Lite 260 Knit Training Shoes is the perfect companion for intense workouts and training.
Au lieu de €155.24 Notre prix €93.14
The newest addition to the training range, the F-LITE 290 brings together everything we have learnt from a decade in the box and delivers it all in one perfect package for committed athletes. Unrivaled grip, lightweight agility, slipper-like comfort and tough-as-hell durability, this shoe will get you through every kind of workout, no matter how punishing it is. Now boasting a 4mm drop (heel to toe differential), the F-LITE 290 is set to hit the training sweet spot in 2018.
Au lieu de €155.24 Notre prix €93.14
Protégez-vous des éléments durant les froids mois d'hiver avec le sweat à capuche adidas Z.N.E. Hybrid Primeknit pour femme.
Au lieu de €149.44 Notre prix €74.69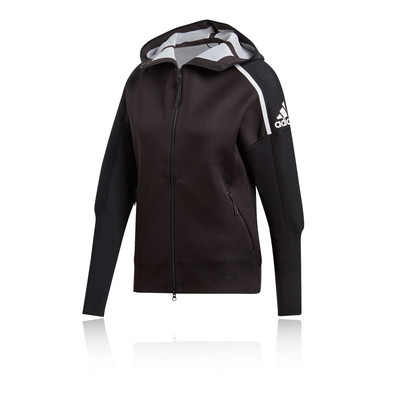 Under Armour's Unstoppable Woven Joggers have been designed to keep you as protected as possible with GORE-TEX Windstopper panels to be totally windproof with maximum breathability.
Au lieu de €114.99 Notre prix €68.99
Soreness and aches after a workout or training? The 2XU Elite Power Recovery Tights are the ultimate compression tights for those wanting to get back to their peak in the fastest possible time.
Au lieu de €126.49 Notre prix €63.24
The Nike Tights pack in the details to this supportive, high-rise silhouette. A hidden zipper at each thigh reveals breathable mesh underneath, while an alphanumeric code at the right hip offers a modern take on Nike branding.
Au lieu de €103.44 Notre prix €62.07
Les chaussures Inov-8 F-Lite 235 V2 sont polyvalentes et parfaites pour le fitness, entraînements intenses, lever de poids et running. Les Inov-8 F-Lite 235 V2 sont légères, rapides, et permettent une adhérence parfaite. Cette nouvelle version est encore plus durable que le modèle original. Ces chaussures permettent à l'athlète de relever tous les défis avec une chaussure durable, flexible et polyvalente.
Au lieu de €143.74 Notre prix €57.49
Layer on SKINS ACTIVEWEAR Gylle Engineered Windbreaker Jacket for your early morning run or weekend hike to stay active when the wind picks up.
Au lieu de €103.49 Notre prix €51.74
The Bjorn Borg Apollo Anorak is a stylish, loose-fitting and lightweight performance jacket.
Au lieu de €103.49 Notre prix €51.74
The Cardio jacket from Reebok is a loose garment that gets you to and from your workout. This women's jacket offers a relaxed, modern shape while an exaggerated collar adds style and coverage.
Au lieu de €72.39 Notre prix €43.44