---
Los pantalones cortos de compresión 2XU utilizan el material PWX FLEX (Power, Weight, Flex) de 2XU para comprimir áreas específicas reduciendo así, la vibración muscular y disminuyendo los tiempos de recuperación y el riesgo de lesiones.
Precio regular €65.99 Precio de venta €23.99
La actualización de la legendaria zapatilla de trail Salomon con un agarre y ajuste inmejorable. Para crear la siguiente generación SPEEDCROSS 5, se ha mejorado el agarre y con una parte superior más dinámica. Tiene una mejor estabilidad y un diseño más definido. Una nueva leyenda ha llegado.
Precio regular €143.99 Precio de venta €86.39
Su ajuste es cómodo, su drop es 8 mm para una posición dinámica en tu carrera y su parte superior ligera hace uqe las SCOTT Kinabalu sea la zapatilla más versátil para tus días al aire libre. La media suela eRide de SCOTT tiene una geometría que aumenta la eficiencia en la carrera para todo tipo de corredores.
Precio regular €155.99 Precio de venta €59.99
Las zapatillas de correr para mujer ASICS GEL-Nimbus 21 ayudan a las corredoras a avanzar más. Flytefoam proporciona la máxima sensación energética que ayuda a impulsarte hacia adelante, mientras que la malla rediseñada, una espaciosa caja para los dedos y una suela lateral con contacto total brindan una marcha más fluida y estable.
Precio regular €185.99 Precio de venta €107.99
Las 1400v6 están listas para la carrera, aportando ligereza y rapidez, y una amortiguación sensible REVlite. Esta actualización presenta una parte superior ligera, pero estructurada, con soporte FantomFit para un ajuste seguro del mediopié, con una malla transpirable, ayudando a agregar una sensación ligera y aireada.
Precio regular €107.99 Precio de venta €64.79
This simple yet effective hoodie ensures superb comfort during bitter days training.
Precio regular €59.99 Precio de venta €17.99
Have superior coverage and feel like you can do anything in these Under Armour Heatgear Ankle Crop Women's Training Pant thanks to the locked in Under Armour Compression Fit.
Precio regular €41.99 Precio de venta €16.79
La Xodus ISO 3 lleva el sistema de amortiguación al máximo nivel al tener la mediasuela con EVERUN. Incluye ISOFTI para dar comodidad, PWTRAC para dar adherencia. Prepárate para descubrir nuevos horizontes.
Precio regular €167.99 Precio de venta €83.99
El S/LAB SHORT 6" es un ligero pantalón corto exterior para running. Parte integrante del sistema S/LAB Modular, puedes elegir tu propia combinación de prenda interior, pantalón corto exterior y cinturón opcional para un rendimiento y confort óptimos. Este pantalón corto está pensado para llevarlo puesto sobre un pantalón corto interior y es de tiro bajo.
Precio regular €71.99 Precio de venta €35.99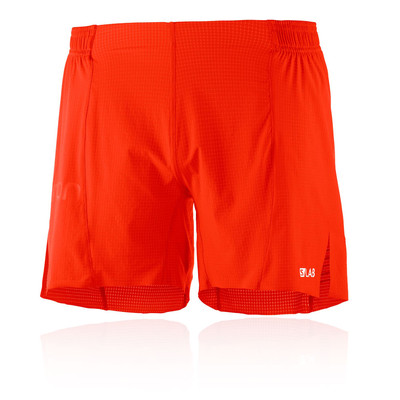 Las zapatillas de trail ASICS Gel-Sonoma 4 GORE-TEX son perfectas para la travesía.
Precio regular €101.99 Precio de venta €59.99